My sweet mother, who has challenges when it comes to baking, shared this recipe with me several years ago.  It came from a Taste of Home cookbook, I believe, and it couldn't be easier.  She told me that if SHE could make it with success, anyone could.  It has only 2 ingredients…3 if you add the optional nuts.  It comes out perfectly every time, and it wouldn't be the holidays unless I made a batch of it.  My son requests it every year.  Make an extra batch, and you can be a rock star when you give it as a gift!  So, here is my next offering in my "12 Weeks of Holidays" series.  Enjoy! 
It is practically fool-proof.  The only way you could possibly have trouble is if you don't keep an eye on the almond bark as it is melting.  I did that one time.  I walked away with the heat too high, and it got away from me! It will scorch, and there is no turning back…just starting over.  Anyway, after you cut it, make sure you store it in the fridge to keep it from spoiling.  It is so velvety smooth and delicious.  I would put nuts in, but my son does not like them.  Sometimes I question if we are related!  I did a half batch for this recipe since it's early in the season, and I'm not ready for gift giving yet.  But it disappears quickly!
Since I was doing a 1/2 batch, I just needed 4 blocks of the almond bark.  They are 2 oz. each…so for a full pound, you'll need 8!  Higher math skills!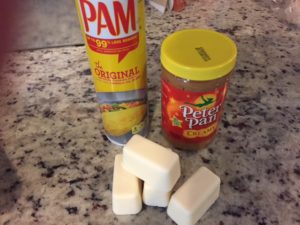 Melt them in a sauce pan over medium low heat…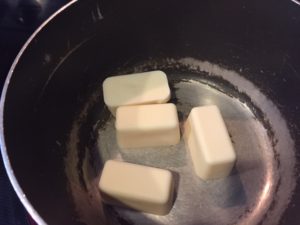 Stir in the peanut butter…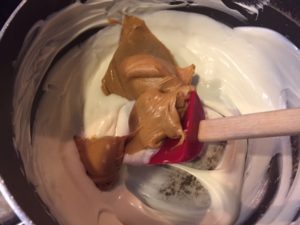 Blend together and remove from heat…this is where you would stir in nuts if you were using them…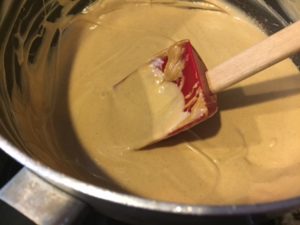 Pour immediately into prepared pan…for a full batch, use an 8×8 dish lined with parchment, sprayed with cooking spray…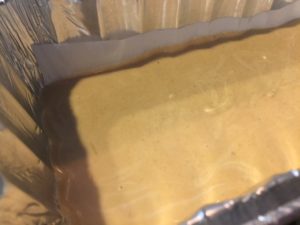 After chilling and removing from fridge and pan, cut into squares…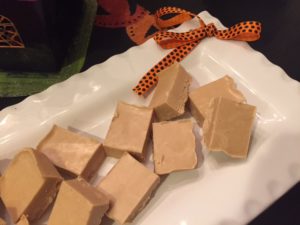 Ingredients
1 pound white almond bark
1 cup smooth peanut butter
1/2 cup chopped pecans, optional
Directions
Spray an 8×8 dish with cooking spray.  You may want to line the dish with parchment to allow for easily removing fudge for cutting.  Melt the almond bark over low heat in a medium saucepan.  Once melted, stir in peanut butter to combine.  Add nuts, if using.  Pour into prepared dish.  Chill for a couple of hours.  Remove from fridge and allow to come to almost room temp and remove from pan and slice into squares. Keep refrigerated.